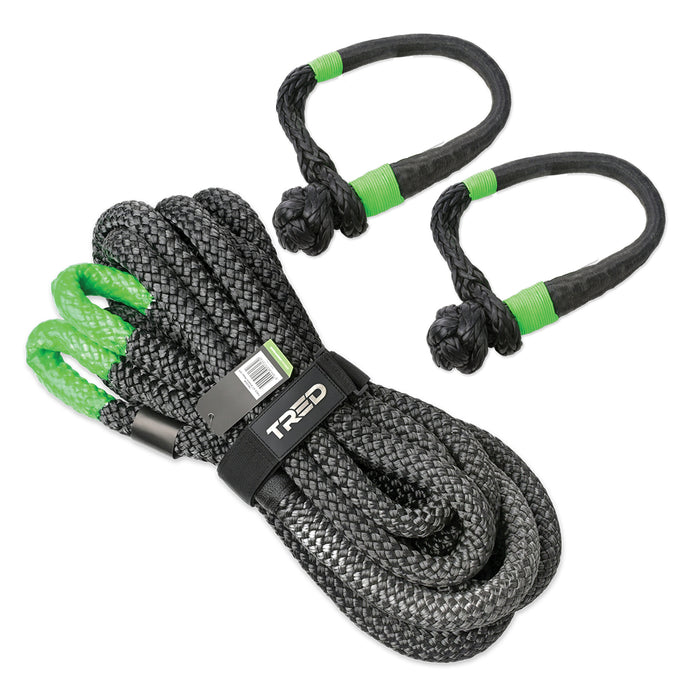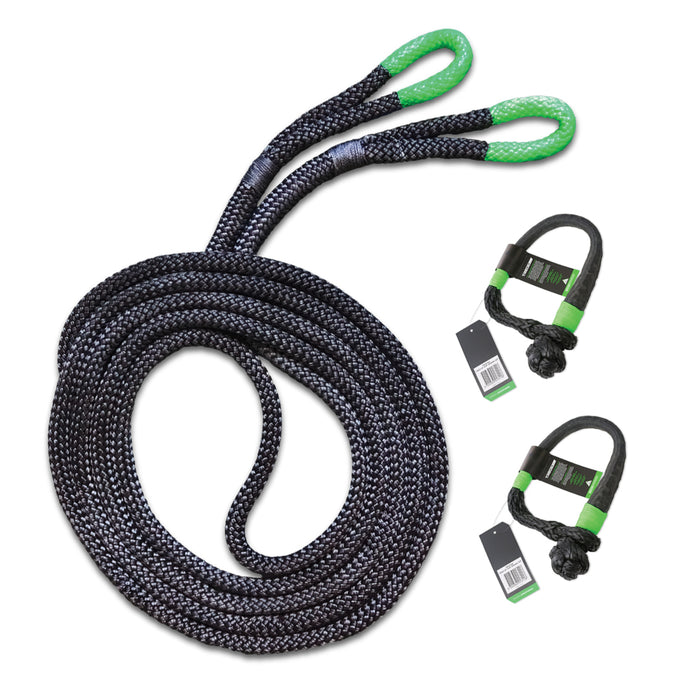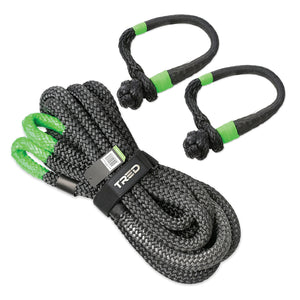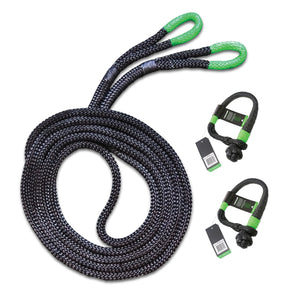 TRED GT Kinetic Rope | 12,500KG Bundle
TRED GT Kinetic Rope Bundle. 
This kit includes:
1x TRED GT 12,500KG Kinetic Rope
2x TRED GT 15,000KG Soft Shackles
TRED GT 15,000KG Technora®️ Bound Soft Shackle.
15,000KG / 33,000LBS minimum breaking strength combined with the Technora®️ binding offers cut resistant protection to this soft shackle. Soft shackles are designed to be a safer, lighter and easier to use alternative to metal shackles.
The TRED GT 12,500KG Kinetic Rope:
12,500KG minimum breaking strength 9 meters long. TRED GT Kinetic Ropes are constructed using high quality Nylon 66 and offer up to 30% elongation. After assembly, each TRED GT rope is coated in a UV treatment.
TRED GT Kinetic Ropes feature a highly durable vinyl polymer-coated eyelets for extra protection to critical parts when in use
TRED GT Kinetic Ropes use the kinetic energy generated during use to help in removing a stranded vehicle. The combination of the recovery vehicle pull and the tension in the rope creates a 'snatching' effect that can pull a vehicle free from being stuck or unable to move itself. When used in accordance with these guidelines, vehicles may be recovered with minimal risk of injury to people, or damage to vehicles or equipment.
It is very important to use the correct recovery rope. A rope with a 'too light" breaking strength may break under load. A rope with a 'too heavy' breaking strength may not be stretched properly and more stress will be placed on the recovery points, possibly causing damage or injury. The minimum breaking strength of the rope should be between two and three times the GVM of the 'lighter' of the two vehicles used in the recovery process. Please note that the recovery rope will be under greater load if the vehicle is bogged in mud, sand or heavily loaded. If the GVM is not stated on the identification plate of a vehicle or its registration certificate, it could be available from the owner's handbook or from the vehicle manufacturer.
Local NATA laboratory tested to ensure TRED quality standards are met and exceeded.  
Download safety guidelines and instructions for use here