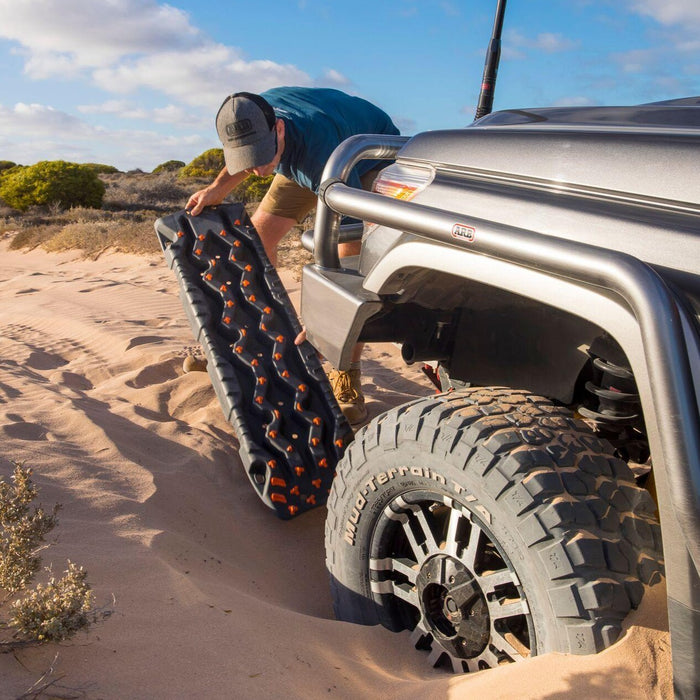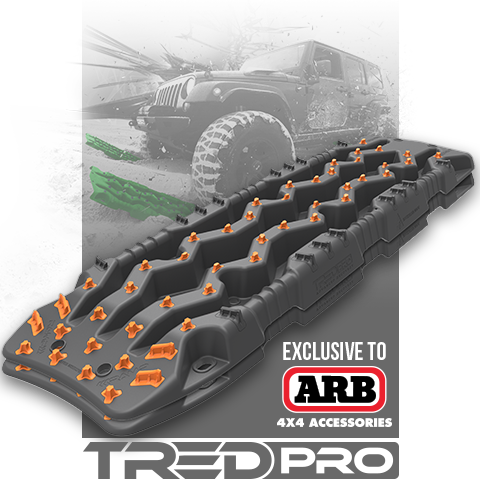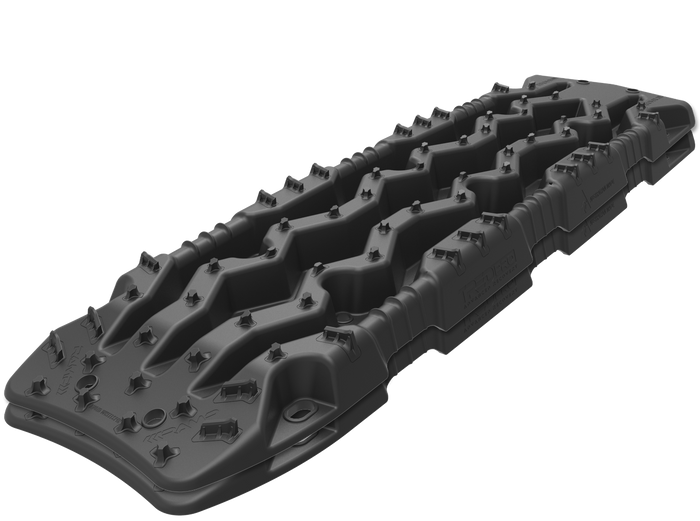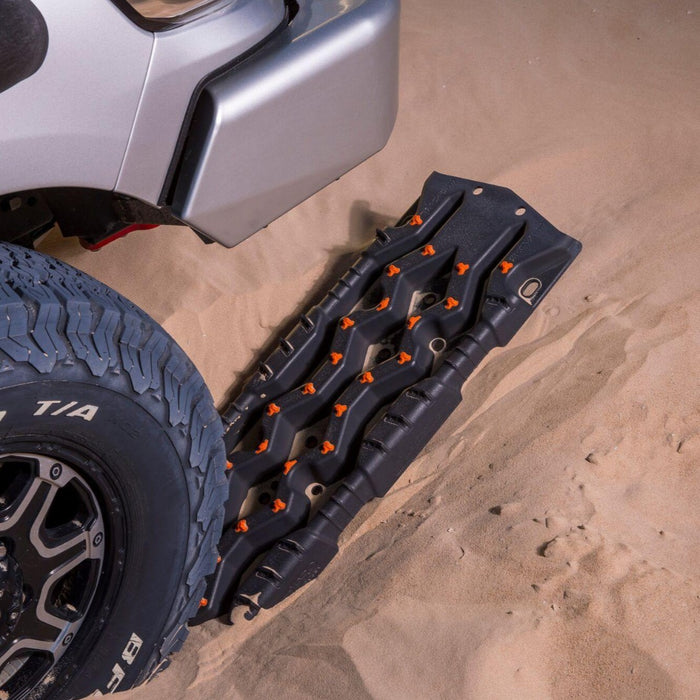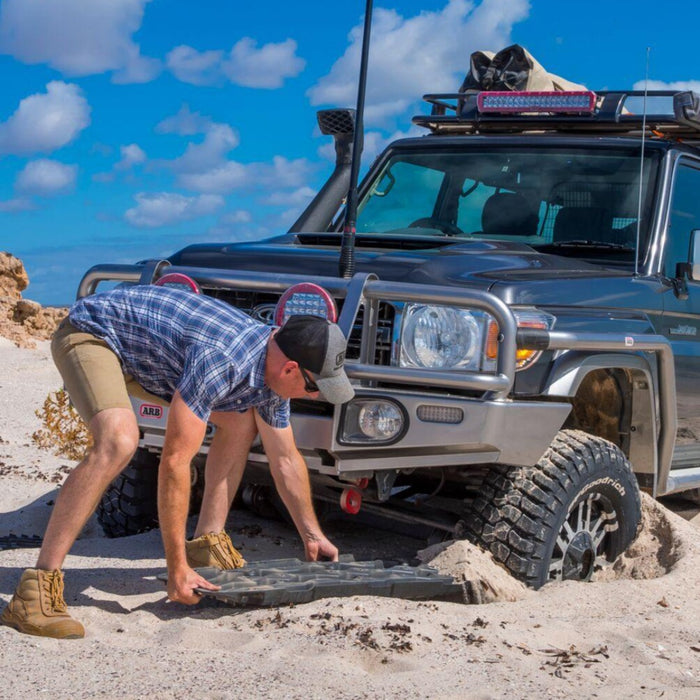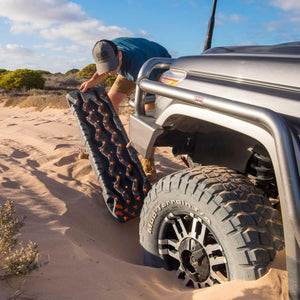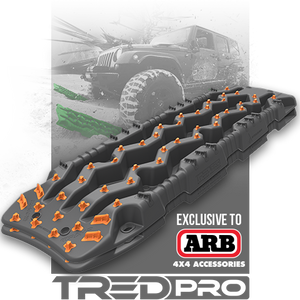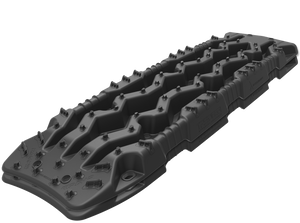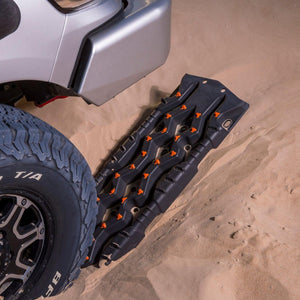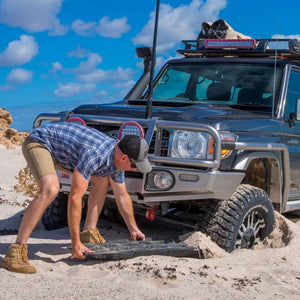 ARB x TRED Pro

ARB x TRED Pro colours are 

exclusive

 to ARB. Please visit

www.arb.com.au to view and purchase this product.
Please note. TRED Pro recovery boards are sold in a pair (one set).
THE HISTORY
Since launching the original TRED in 2012 we have received incredible feedback from our end users and direct customers, being our retail and distribution partners. Through social media, trade events, years of in-field testing and directly engaging with our customers we have aggregated this information to develop TRED Pro™
TRED Pro™ is the world's most advanced and highly engineered all-in-one off-road vehicle recovery board, specially designed to get your four-wheel drive, ATV and equipment out of trouble when traction is lost in sand, mud or snow. TRED Pro™ is the next generation of the already hugely successful TRED™ off-road recovery board which is the world's largest selling brand in the category. Engineered and manufactured in Australia, TRED Pro™ will out perform any other traction aid in the market. TRED Pro™ will allow you to explore with confidence, without letting traction disrupt your journey.
THE MATERIAL
EXOTRED™ - Patented Dual Composite Construction For Ultimate Durability
TRED Pro's unique and patented composite construction, ensures that in the unlikely event that your wheels spin during a recovery, the ramp/teeth will not suffer instant catastrophic damage as has been experienced with other leading recovery ramp products. Due to the special polyolefin material blend TRED Pro's can handle high levels of flex, are highly durable and wear resistant. The mix of elasticity and tough rigid design in the main body means that your TRED Pro's maintain a high level of pressure on your tyre to provide ultimate traction whilst still being able to take the flex of being under vehicle weight on unstable ground.
All Terrain – 4 Seasons
TRED Pro has gone one step further than our original TRED product to ensure both the products design and material is optimised for use across a variety of terrains and seasons. Our customers work and play in some of the harshest environments on earth and TRED Pro is designed to be there when you need it most. Sand, Mud and Snow all provide for some great fun but also offer some tricky and sometimes hazardous driving situations and TRED Pro is designed to work across all of them.
THE TYRES
SIPE-LOCK™ – Patented Grip Profile For Ultimate Traction
The new TRED Pro features a unique patented grip profile, specifically engineered to engage with the one common denominator in most tires, the water evacuation channels on the outer edges, known in the tire industry as sipes, we call it SIPE-LOCK™. By using advanced technologies such as 3D scanning and CAD modelling we inspected hundreds of the biggest brand tires around the world to optimise the TRED Pro design. This feature makes TRED Pro the ultimate in traction for recovery devices. By creating a database of the worlds biggest selling off road tires we were able to use real data, dimensions and tread patterns to optimise our design more so than any other recovery device of this type in history.
RETROFIT
TRED Pro Will Fit To Your Existing Mounting Brackets
We have designed the new TRED Pro with the same mounting points as the previous models allowing it to retrofit to your existing TRED 800 and TRED 1100 mounting brackets. Also including an updated set of mounting points to suit the new TRED Pro mounting bracket and other mounting products available in the market. Your new TRED Pro's will simply slide onto your existing mounting brackets or bolts – upgrading to your new TRED Pro's much easier.
THE SHOVEL
Improved Shovel & Handles + New Contour Ramp
Integrated design features enhanced ergonomics and provides maximum grip, comfort and control to clear debris & obstructions for optimum TRED placement prior to recovery. The new contour ramp has been engineered specifically to hug the tyre for optimum tire traction and vehicle recovery in all conditions.
ADDITIONAL FEATURES & BENEFITS
Lower Profile - Better Stacking TRED Pro's have been designed with a lower profile and tighter nesting to save valuable storage space. This also allows for shorter mounting kit pins due to reduced stack height, meaning less equipment protruding from your vehicle.
Lifetime Warranty - The only off road vehicle recovery device with a Lifetime Warranty!
Australian Made - Proudly Australian made, owned and operated by 4WD enthusiasts.
Stealth Mode Engaged - Dual Colour Tone - TRED Pro comes in our unique New Gun Metal Grey body combined with Stealth Black teeth. TRED Pro is super functional and also looks great. For Kickstarter backers only, a limited number of Army Camouflage coloured TRED Pro's will be available.
DIMENSIONS
Single Unit Dimensions
Length - 1160 mm (45.67 inches)
Width - 330 mm (12.99 inches)
Height - 65 mm (2.56 inches).
Nested/stacked height (one set/pair) - 85 mm (3.35 inches).
Nested/stacked height (two sets/pairs) - 126 mm (4.96 inches).

Weight - TRED Pro (pair) weighs 8.2kgs (18.08 pounds)